Bohemian Rhapsody Wedding Inspiration
Wedding editorials are the perfect way to show our most creative side; it allows us to play with ideas, to dream of magical scenarios and give birth to incredible settings with our signature style. Our objective is to take a step forward in the wedding industry by sharing not only new trends and alluring designs, but also to show that wedding planning is an ART – we create dreams, we make them come true, we celebrate love, we make people laugh and dance, and we help create beautiful moments by putting a lot of passion and soul into our work. Weddings are short-living events, but they always remain in people's hearts. #weddingsforever #bodasparasiempre.
As in all of our weddings, elegance, beauty, love and nature are present; also, a mix of styles, contrasts vs harmony, creative ideas; weddings with a trendy touch and a note of sophistication.
We love mixing styles; many styles. And that's what we did here, in a harmonious way, of course. Boho? Classy? Provençal?
A declaration of love in the middle of the woods, in the heart of the Serra de Tramuntana; a romantic bridal look, a wild-flower bouquet, a dinner by candlelight illuminated by hundreds of fairy lights.
Inspiring details really made a difference, such as the floral decoration – as creative and elegant as it can possible be; a delicious menu, made up of healthy and savoury options; and the lighting, which created the most magical atmosphere.  The whole setting is simply amazing.
The floral decoration was one of the key elements. Romantic and exuberant, wild and natural, in line with the current trend. A whimsical ceremony followed by a delicious dinner around a beautifully-decorated table, dressed with a lot of taste and full of delicate touches, designed by En Esencia.
A boho-chic inspired ceremony, where creative freedom played a main role, with a mix of old pieces and colourful, embroidered rags, combined with trendy decorative elements.
The scenario is so romantic, so pure; and full of marvellous decorations, like the floral garland adorning a tree trunk. The mix of colours and fabrics in cushions and rags, combined with rich floral centrepieces made by En Esencia, create the perfect scene for a magical, enchanting, romantic wedding.
We also love mixing colours, as you may have noticed. This time we created a spectacular combination of burgundy, peach, soft pink, golden tones, lilacs, sea-water green, Marsala… A decorative style ideal for boho-chic lovers, brides with character who look for a romantic yet elegant wedding; textiles and flowers add a colourful note and create a delicate, natural atmosphere, in perfect harmony with the environment.
The table setting reflected taste and love for detail
The amazing floral centrepiece catches all the attention; it's so original. To style the place, we mixed and matched different pieces for an English-Provençal feel – with natural and painted furniture; combined with pastel tablecloth and golden cutlery and glassware, from Jaiak. The beautiful menu cards – designed by Invitarte – matched perfectly with the other elements.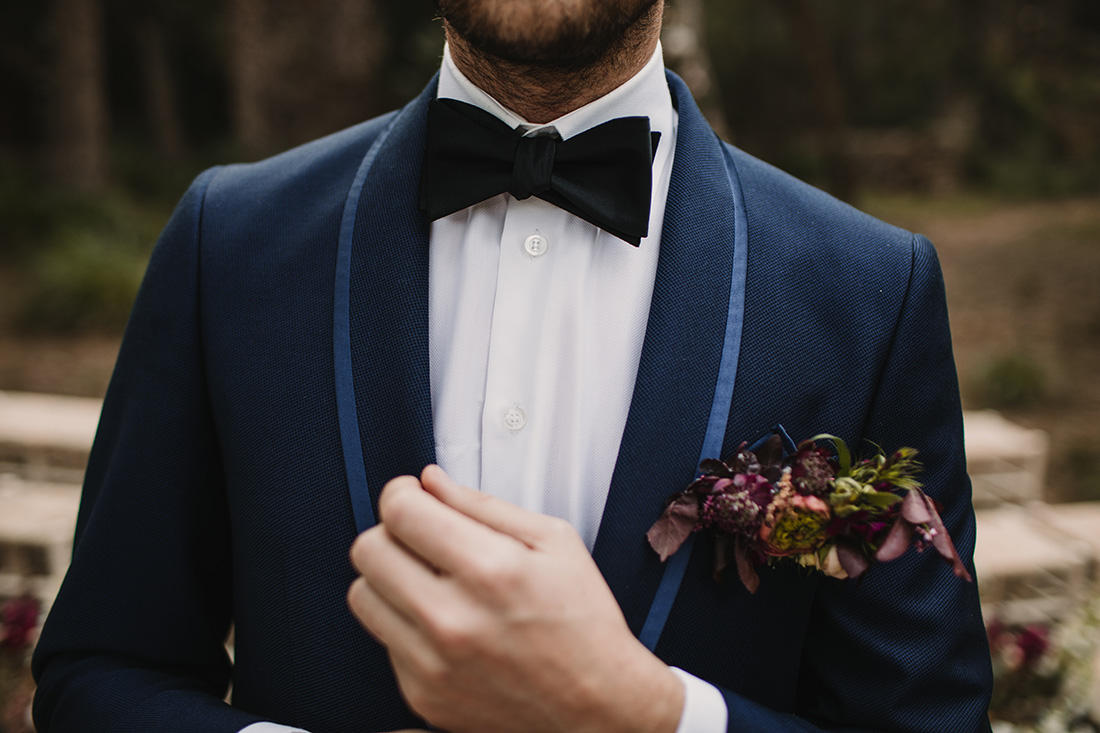 This wild wedding bouquet gave a fresh air to the bridal look. A loose, boho-inspired bouquet, created by Francis García, made up of unusual flowers, with different sizes and textures, in a pink-burgundy palette. Ideal for bold brides.
The wedding dress, designed by Juana Rique, added the most romantic note to the bridal look
The bride wore a beautiful dress, by designer Juana Rique, with a fitted bodice in Chantilly lace and embroidered tulle, embellished with floral appliques.
Rodolfo Mcartney, creative stylist of this shoot, decided to combine the dress with a lovely Martina Dorta headdress.
The beauty look was created by make-up artist José Ojeda and hair stylist Sergio Anibal Quesada. 
A healthy, natural gastronomic proposal
Our aim was to create a culinary experience with a healthy, natural appetisers and sweets for all palates; food that could be enjoyed at any time of the day. We chose a fresh and assorted brunch for the occasion – a perfect option for a special wedding. The brunch consisted of smoothies, juices, fruit salads, vegan sweets, etc.
Simple Smart Food Bar designed all the appetisers, while Mrs. Sweet added the confectionary treats: vegan sweets made with natural ingredients, 100% bio, imported from the countries where they are produced.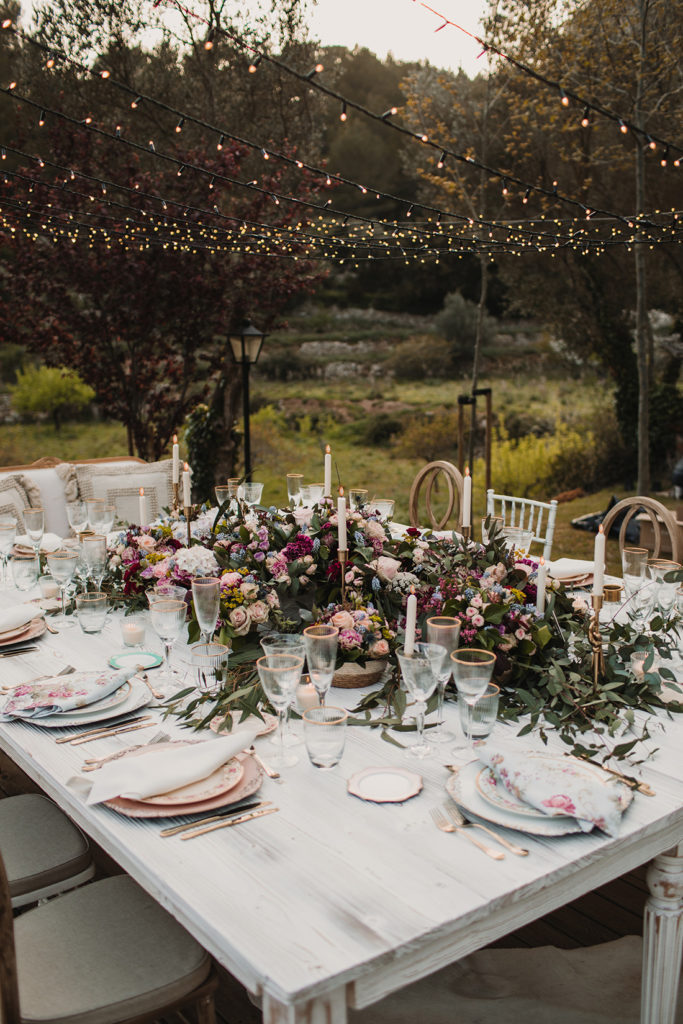 Show Center was responsible for the lighting – a magical fairy-light sky illuminating the table and a spectacular curtain of string lights reflecting on the water by the safareig (a washing place in a country house) creating a 'wow effect'.
Thanks to Abraham García's work (photography), Daniel Mota's (video) and Eagle Drone Mallorca's (drone), you'll also enjoy this wedding, with their beautiful and breathtaking pictures.
Only a great team could make this amazing editorial possible: an army of photographers and videographers – drones included -, talented floral designers, caterers, the best beauty stylists, all kinds of designers… A beautiful work made with lots of enthusiasm and PASSION. Just play the video and enjoy the view!