Lara & Nacho
Posted on
20 December, 2018
A fairy tale that finally came true.
Lara & Nacho's Majorcan wedding was intimate, sophisticated, elegant, romantic, emotional and full of details.
Although it all began in 2016, due to an unfortunate family matter, we had to stop the preparations. In February of this year, however, the bride and groom decided to resume the organization of their wedding, and we devoted ourselves to it so that they could live the fairy tale they had dreamt of for so long.
We had a good connection from the first moment, not just because they trusted us blindly and unquestionably as their wedding planners, but also because Lara and Nacho are the kind of people who fill your heart and transmit peace.
Lara wanted a fairy-tale wedding, full of details, magical (just like her), with high-quality food and exquisite decoration. And voilà, we started working!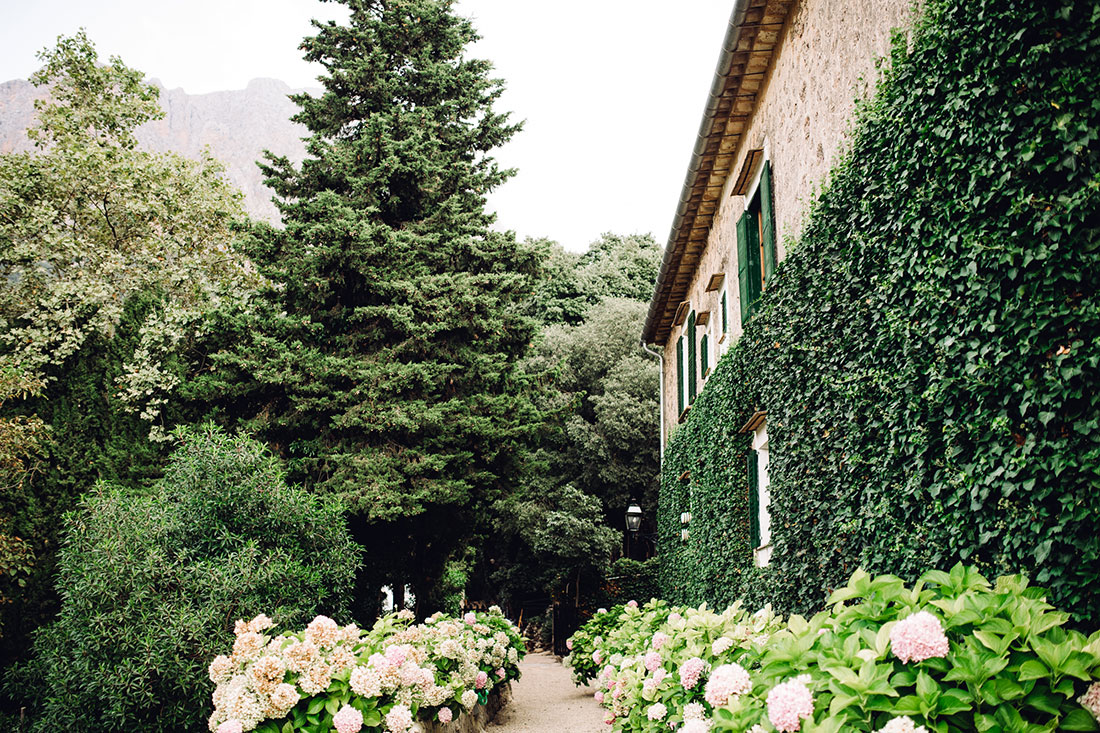 All our carefully chosen partners are top professionals of the island. We made a great team and between us all we allowed all those present to live a fairy tale for a few hours.
It was an intimate party, with a strong Majorcan influence on the food and a varied and unconventional colour palette composed of blue, purple and white tones with touches of silver.
The combination of the unparalleled beauty of the venue and the exuberant staging offered a sublime setting, and made the evening magical and unforgettable for everybody.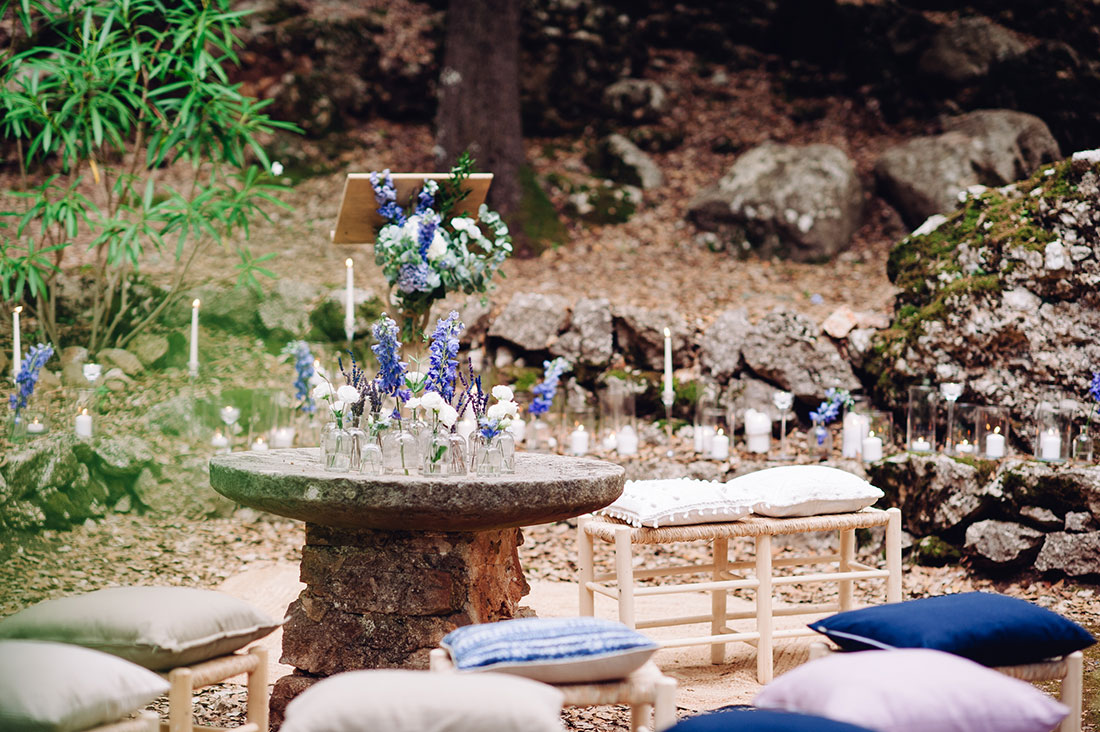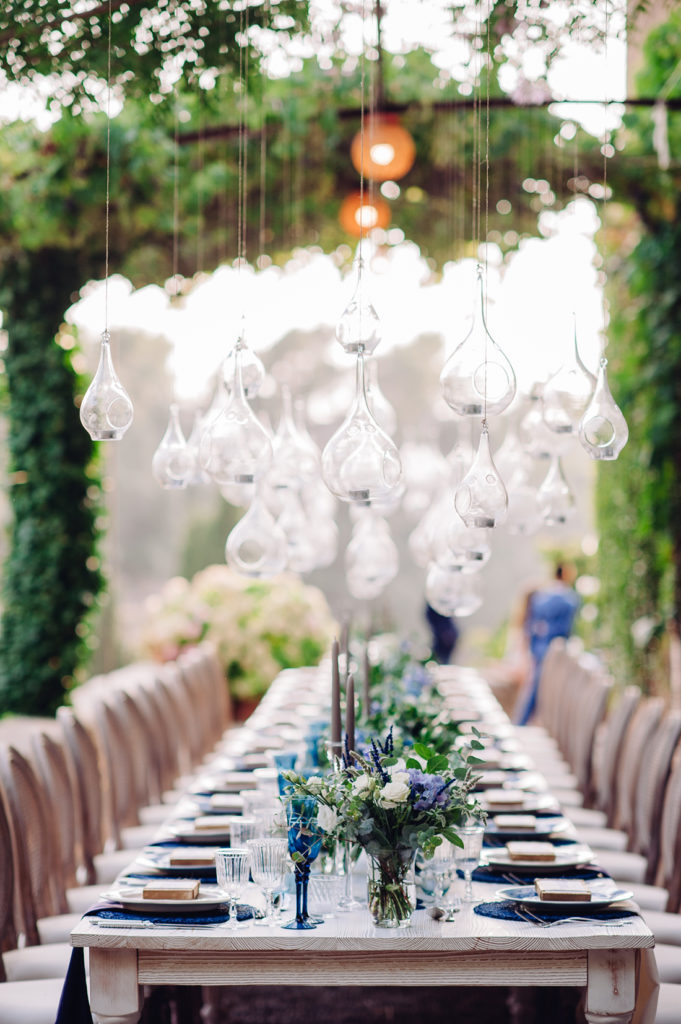 A ceremony in an enchanted forest with a feeling-loaded setting.
The accesses were decorated with boxes, trunks with candles of different sizes, baskets with large wild floral arrangements in blue, white, green and lavander tones and handmade wooden signs. A natural sisal carpet surrounded by exuberant floral arrangements composed of green leaves and flowers indicated the way to the ceremony.
For the guests, we provided small benches made of natural wood with coloured cushions. At the altar, we placed a jute carpet at the bride and groom's feet, a small bench and a wooden lectern decorated with tiny flowers. We spread candles and small vintage bottles full of flowers around and on the stone wall.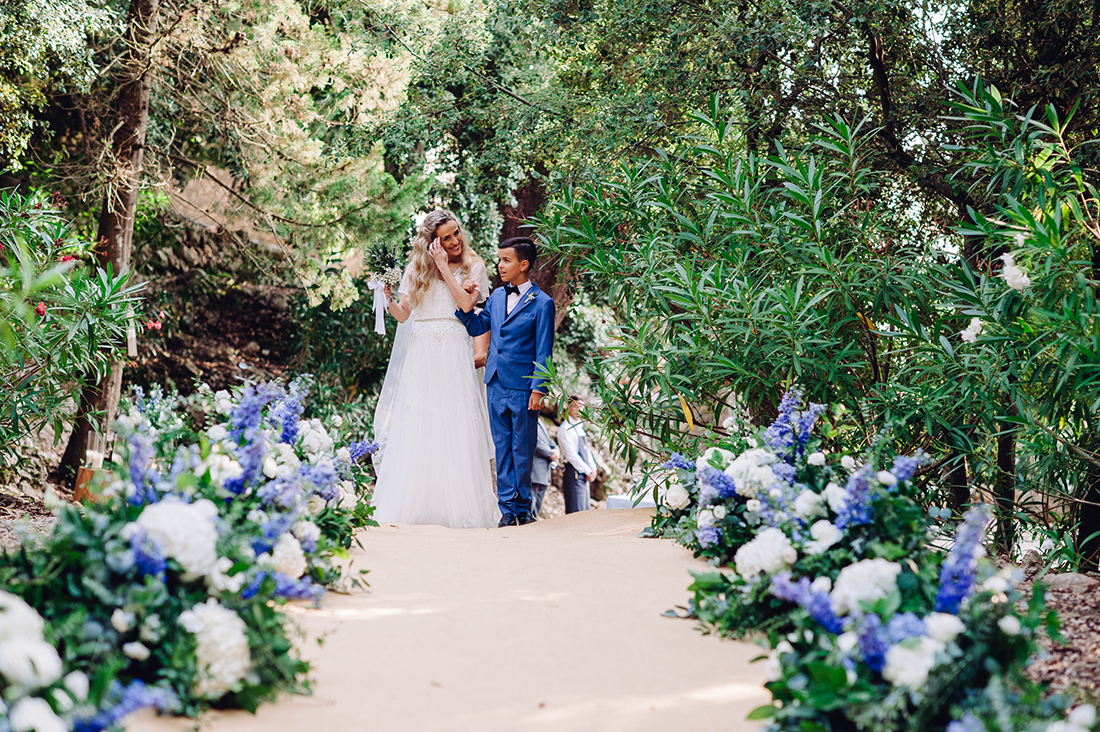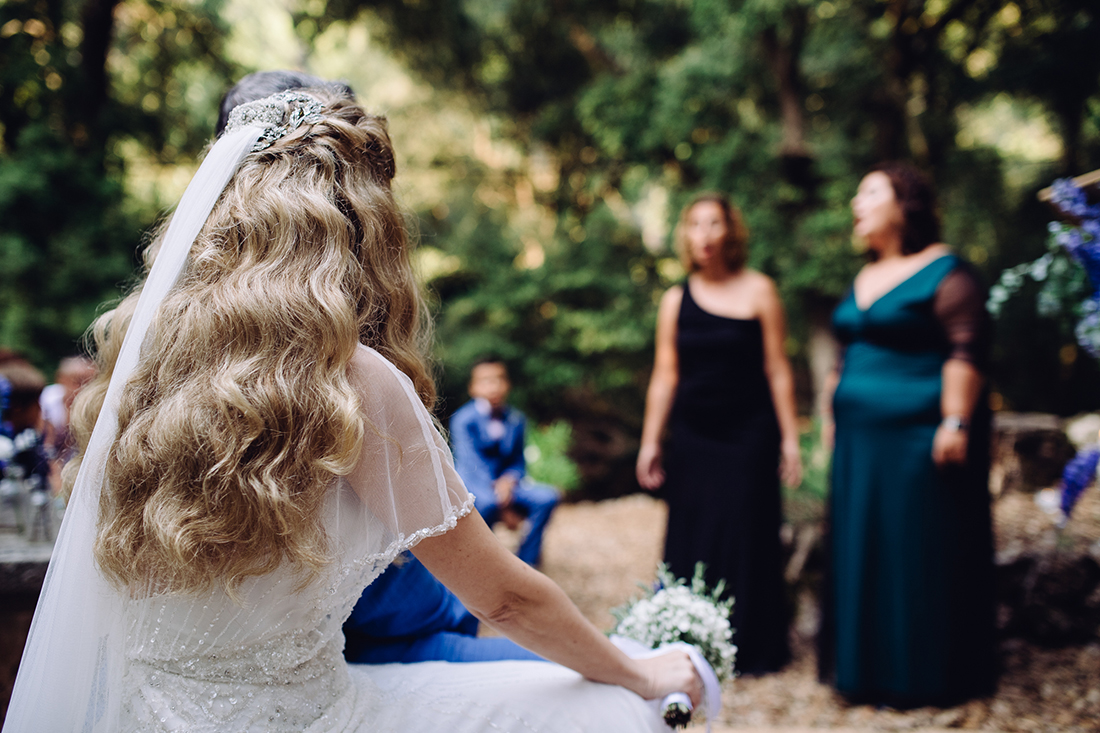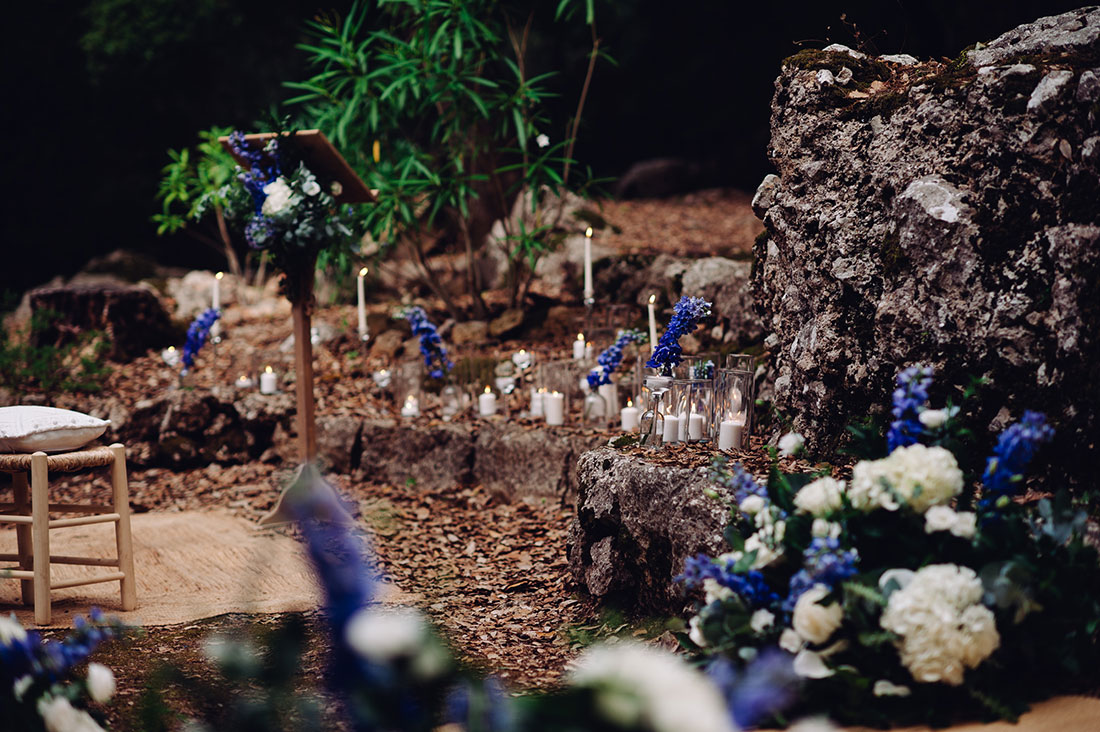 Corners with boxes and trunks, candles, large wild floral arrangements and two marquees under which we created different settings.
In the cocktail area, we placed a Bedouin tent with different chill-out corners under it, each in a different style, complementing each other to perfection. A set of white sofas, blue, lavander and stone-coloured cushions, bamboo tables with flowers and small candles. A "boho" corner with jute carpets, bamboo tables and different sized cushions on the floor. We decorated the wooden bar with large floral arrangements and y tiny magic lights.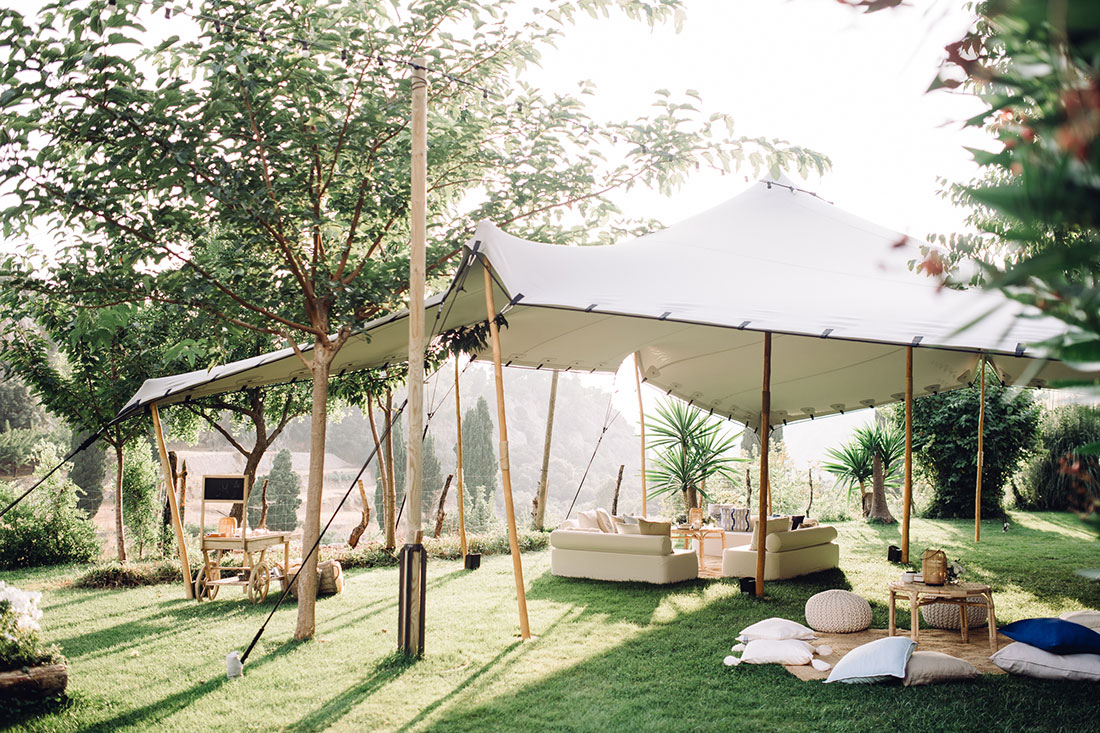 Light curtains and candle holders hanging from the pergola, under which we set the beautiful white wooden table.
The queen of the evening was the great table that earned everybody's amazement. We put great emphasis on illumination, with a light curtain crossing the whole façade of the house and teardrop candle holders in different sizes and at different levels hanging from the pergola, under which we set the beautiful white wooden table.
The centrepieces were composed of vintage glass vases with romantic flowers in white, lavander and blue, complemented with candelabras, candle holders and elements in silver colour and glass.
Also worth pointing out are the custom handmade place markers on bases made of wood and string, which guests took with them as gifts.
The meticulously chosen combination of dishes and glasses, together with the rest of the elements, resulted in an elegant, sophisticated and romantic table.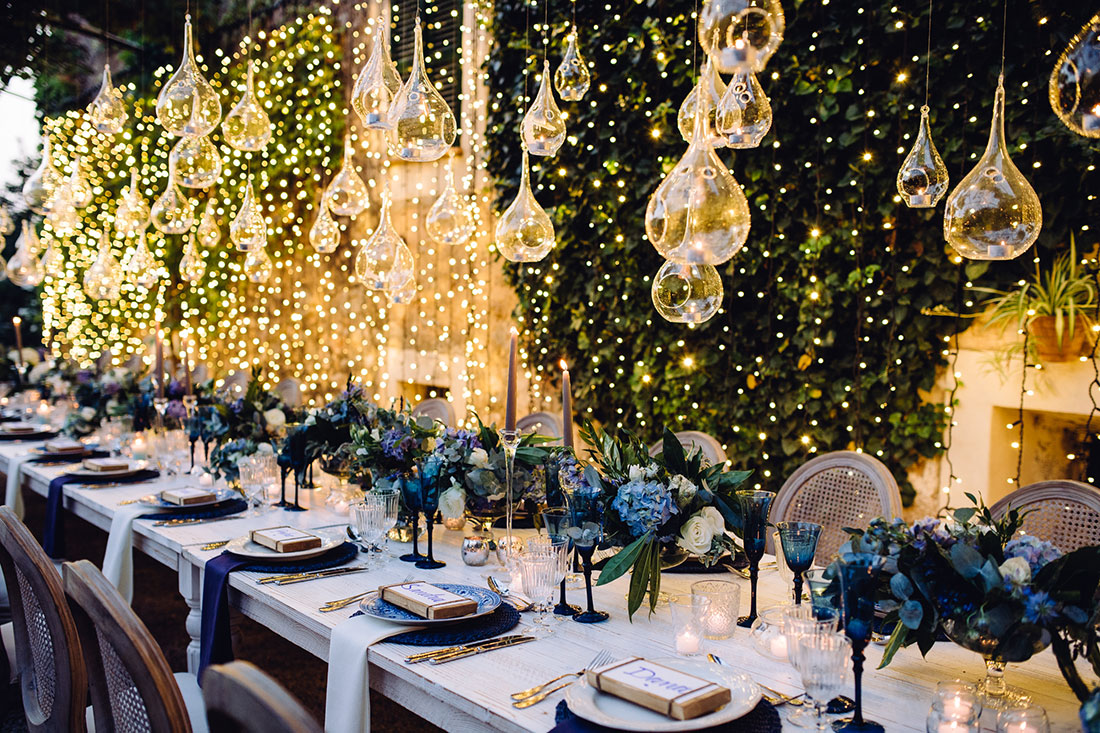 Not only did we work hard on the aesthetics of the wedding, but we also created a marvellous menu in collaboration with one of the best chefs on the island.
For the dinner, there were different food corners made of wood, with strings of light bulbs, exposing a spectacular menu made with a lot of loving care.
We served an original appetizer, without forgetting tradition and boosting flavour, which included specialities, mostly with Majorcan character: crusted prawns with Majorcan sausage; creamy mussel stir fry with crunchy bread; Majorcan "coca" with vegetables, sardines and roasted tomato, etc.
We continued with different stations serving fresh fish of the day, octopus brochettes, roasted lamb shoulder… and many other delicious creations. There were also assorted cheeses, a mouth-watering lemon pie, "cardenal de Lloseta" (traditional Majorcan dessert), homemade ice creams… all combined with sweet wine and A LOT OF LOVE.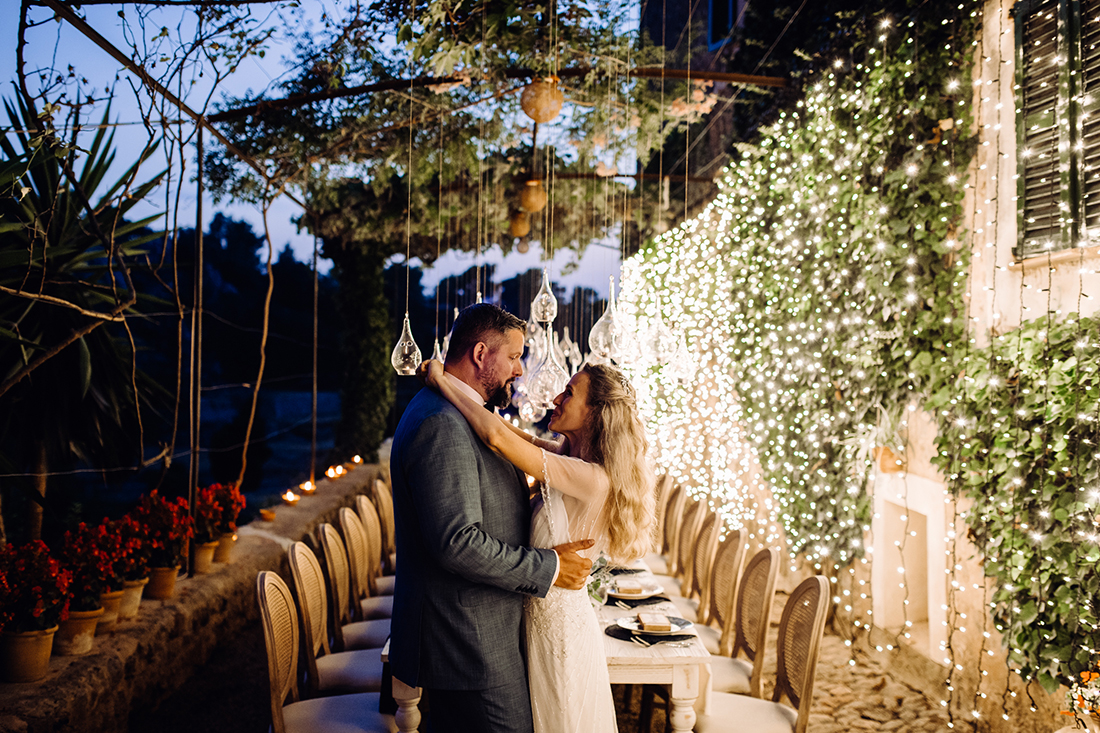 The guests danced under a sky of star lights
The disco area was situated under another Bedouin tent decorated with a ceiling of lights that provided for a magical atmosphere.
Also, as gifts for the guests, we set different corners with high heel protectors, blankets for the evening and a cigar bar.
For the sweet-toothed, we created a sweet table with high-quality minipastries: brownies, cupcakes, donuts, macarons, tea biscuits and a beautiful drip naked cake.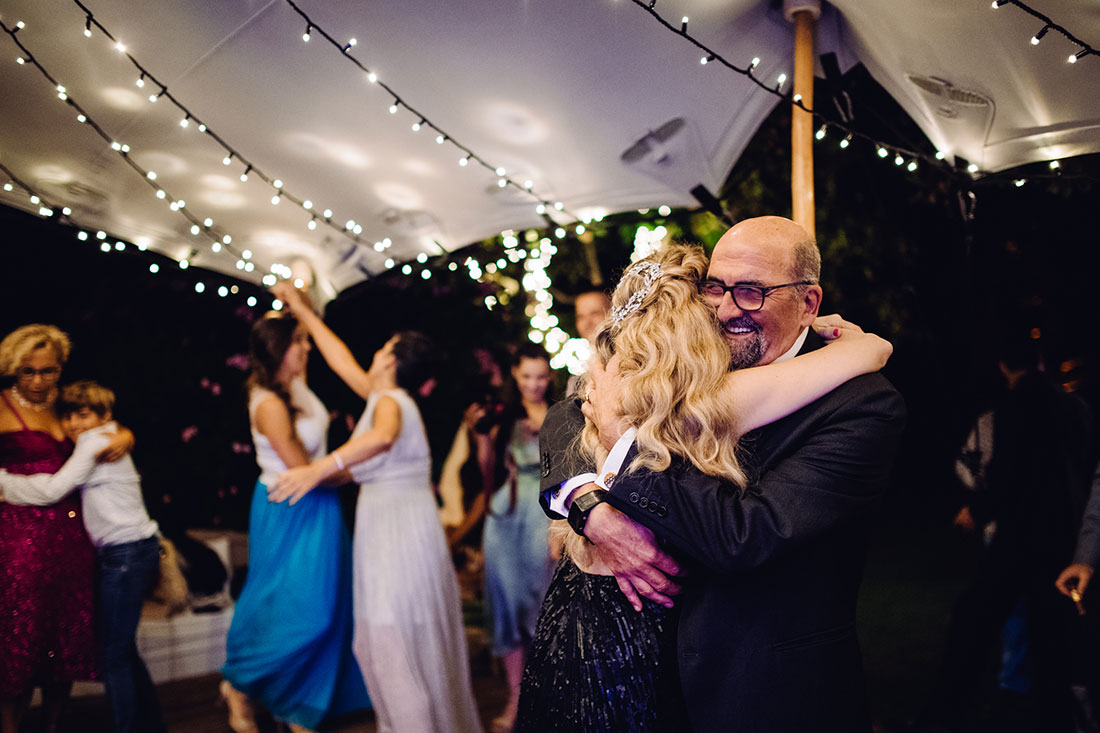 A wedding created and planned from the beginning to the end by Pasión Eventos.
We work hard every day to create authentic and high-quality weddings not only because we believe in good work, but also because we love seeing our brides and grooms happy.
It is a privilege to be able to do what we love so much and to be part of such unique moments like the ones we live in weddings.
These breath-taking pictures have been taken by Pere & Marga. I hope you have gotten at least a small taste of that amazing day.
If you want to know how they went through this amazing experience, be sure to read their testimonial.